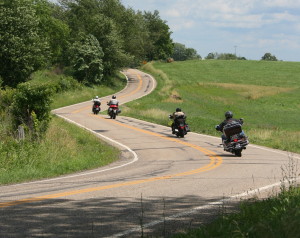 Training Tour length: 2 days
Begins: Bridgeville, PA (12 mi. south of Pittsburgh)
Ends: Caldwell, OH
Where we stay: Stockport Mill Inn www.stockportmill.com
Price: $975 incl: 1 night, 1 dinner, 1 breakfast.
Training Tour Description
A typical "Ohio style" road? Up and down–full of surprise twists and turns. Compared to mountain switchbacks, it's a whole new learning experience.
This is the original NeoAlpine Training Tour. Its chief advantages are a nearly unlimited bounty of twisty roads and extremely light traffic conditions. Because of the tremendous variety of roads, no two training tours are ever exactly alike. For less experienced riders, we choose roads with more sweepers; for veterans, more "technical" roads. The first day is a busy one. After a breakfast meeting, we do an hour and a half of closed course drills, then ride for the remainder of the day. Our route takes us through farmland and through the Wayne National Forest. Southeastern Ohio is unique motorcycling country. Generally the roads are not too steep, so it is possible to ride all day and rarely use your brakes. The challenge lies in the many blind turns and rollercoaster hills. First day mileage, not counting drills, is usually 170-200. In the evening, we stay in Stockport, OH, a small town rich in history. We stay at the wonderful Stockport Mill Inn, a converted mill right on the Muskingham River (you'll sleep well to the sound of rushing water just beyond your room's balcony). We'll enjoy dinner there at the inn. During a light breakfast, we'll view video footage and discuss riding strategies. Following breakfast at our inn, students will take turns leading and following and will receive a thorough critique of their progress. Several of our second day roads have been named to "top ten" lists by the nation's leading car and motorcycle magazines. At about 4:00 PM and after an average of about 150 miles, the tour ends near Caldwell, Ohio and the group members head toward their respective destinations.
View Terms & Conditions for participation requirements and cancellation policies.