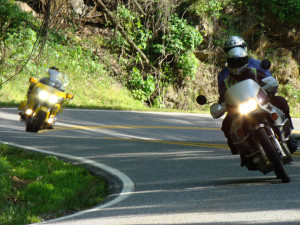 Tour Length: 2 days (event dates found beneath description)
Begins: Cornelia, GA
Ends: Mt. Pisgah, NC (along the Blue Ridge Parkway)
Where We Stay: Oak Park Inn, Waynesville, NC
Price: 2-Day: $975, incl. 1 night lodging, 1 dinner 1 breakfast[/vc_column_text][/vc_column][/vc_row][vc_row][vc_column][vc_column_text]Tour Description:
On-Road Training Tour   This skills enhancement tour offers pristine mountain scenery, vertical climbs of over a mile and plenty of curves–some 5000 by our estimation. After a brief meeting at a local coffee shop and some basic drills on a practice range we'll head out onto the road. First it's some gently curving foothills, and then we're in the mountains …and that's where we'll stay for the duration of this tour. Outstanding roads, breathtaking scenery and valuable training opportunities abound. Daily riding distances can vary to meet the desires of the group, but will usually range from 175 to just under 200 miles. Following a fulfilling day of riding and coaching, we'll kick back for the night in beautiful Waynesville, North Carolina — a well-preserved artsy/folksy little gem with a vibrant, walkable downtown and dinner options just a few block's stroll from our accommodations. Each day reinforces strategies and introduces new techniques. The tour finishes at approximately 3 or 4pm on the last day, usually at the Mt. Pisgah Inn along the Blue Ridge Parkway. As members typically assemble from a wide area, we try to make the exact termination point the most accessible to the majority.
Intro to Adventure Training Tour   Very similar to our signature two-day on-road format but adds sections of unpaved roads and simple "splash and dash" water crossings. Suitable for dual-sport and any adventure/enduro-style motorcycle (can even be taken 2-up!). No need for aggressive dirt tires–all roads will be suitable for bikes equipped with standard dual-sport tires oriented toward pavement (80/10 pavement/dirt). This course is designed to provide the same street strategies while introducing basic techniques for riding on unpaved surfaces and progressively building skills and confidence. Nothing demanding, technical or intimidating–just good clean (dirty) fun and a great way to safely get more enjoyment from your adventure bike while discovering all the great things that can be found down a dirt road!
View Terms & Conditions for participation requirements and cancellation policies.