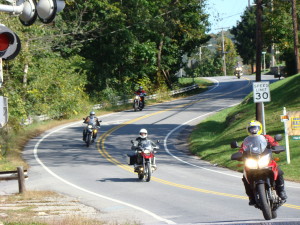 Training Tour length: 1 Day (2nd day optional on select events) & 1/2-Day
Begins: Monroeville, PA (13 miles east of Pittsburgh off of Route I-76 and 376)
Ends: Monroeville, PA
Where we stay: Lodging not included, although available
Price: $475 includes 1-Day training. Add $400 for optional 2nd day when available
Training Tour Description
Who would have known that such a great combination of roads can be found encircling the city of Pittsburgh? For those of us who grew up in the area, we've been enjoying the twisting, turning, ever-changing roads of the well-marked but little understood "colored dot" roads of Allegheny County.
Because the roads of the region follow the natural lay of the land and must work around the many streams and rivers, mountainous terrain, and numerous valleys, before the days of GPS, it could be challenging for drivers to navigate the area. So, in the 1940s the county's Department of Public Works developed this colored beltway system to aid drivers in finding their way.  Using existing federal, state, and municipal roads, color-coded routes were created. The outermost Red and Orange loops are our classroom–and our playground–for this surprisingly enjoyable skill-enhancing tour. Riders will build road-reading skills, situational awareness, cornering skills, traffic management and more. The day's route is approximately 100-120 miles in length.
The day begins and ends in Monroeville, a suburb east of Pittsburgh that is easily accessed at the intersection of the PA Turnpike (Rte 76), the Penn-Lincoln Parkway (Rte 376), Route 22 and Route 48. This "out-and-back" event does not include meals or overnight accommodations, although we can make recommendations for lodging.
For those events offering an optional second day, riders will head farther out into the more rural farm and forest roads where riders will work on more advanced cornering and road-reading skills and be introduced to techniques that will take smoothness, precision and control to new levels. Often, the Day 2 route includes a stop for lunch in the hometown of Hollywood great James "Jimmy" Stewart and a pause in the quaint Amish village of Smicksburg.
View Terms & Conditions for participation requirements and cancellation policies.