[vc_row][vc_column width="1/2″][vc_column_text]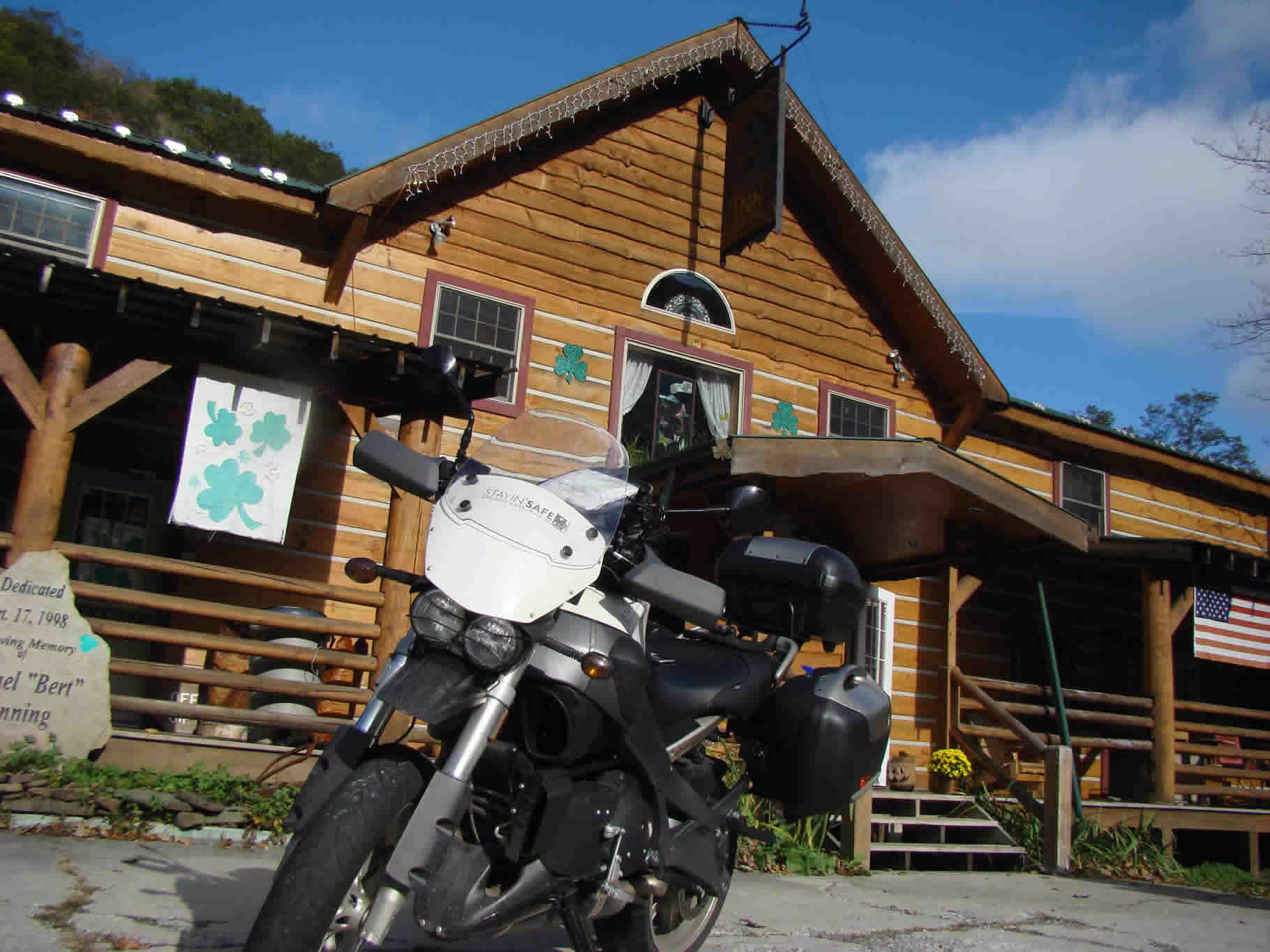 [/vc_column_text][/vc_column][vc_column width="1/2″][vc_column_text]Training Tour length: 2 and 3 day tours
Begins: Morgantown, WV
Ends: Morgantown, WV
Where we stay: BrazenHead Inn, Valley Head, WV
Price: 2-Day=$975, incl. 1 night, 1 dinner, 1 breakfast
(Upcoming event dates listed below description) [/vc_column_text][/vc_column][/vc_row][vc_row][vc_column][vc_text_separator title="training tour overview" color="blue"][vc_column_text]If your goal is to refine your mountain road riding skills, this is the training tour for you. Originating near Morgantown, West Virginia, our "Wild and Wonderful" West Virginia training tour will live up to its name by exposing riders to advanced training on some of the best mountain roads in the east. Over the course of two or three riding days, students will get real-time coaching in a mix of rising and falling terrain, technical mountain switchbacks and sweeping curves that wind through scenic valleys. We'll explore some of West Virginia's favorite routes, including sections of routes 50, 66 and 33 along with countless other lesser-known gems.
Thanks to great roads and continually changing environments, the riding enjoyment and training opportunities are non-stop. The first day of riding will wrap up with dinner, discussion and plenty of camaraderie in a very inviting Irish inn near Snowshoe, WV. The tour termination point is flexible enough to accommodate the destinations of the majority of training tour participants although we usually work our way back to a point near our origination point in Morgantown.
View Terms & Conditions for participation requirements and cancellation policies.[/vc_column_text][/vc_column][/vc_row][vc_row][vc_column][vc_gallery type="image_grid" images="1188,85,898,1184,1182,952″][/vc_column][/vc_row][vc_row][vc_column][vc_text_separator title="Some event details" color="blue"][vc_tta_tabs][vc_tta_section title="TOUR LOGISTICS" tab_id="1471376077881-e3b2b30f-e90d"][vc_column_text]How the event progresses …
Participants will gather at 8am the morning of the event's first day at the IHOP at the Pierpont exit of I-68 in Morgantown. Following introductions and some required paperwork, instructor(s) will introduce the day's content and distribute radio gear.
Typically, the group rides to a nearby parking lot where riders will participate in approximately 30-45 minutes of parking lot drills to introduce the core elements of riding posture and cornering technique.
Following drills, the Stayin' Safe crew will head out onto the road where participating riders will take turns following the instructor as he demonstrates technique and provides commentary specific to the course content progression.
As the day progresses, riders will then take turns riding ahead of the instructor(s) and applying the learned techniques as they receive direct coaching (positive reinforcement and constructive guidance–NEVER demeaning!). Riders will also have opportunities to self-coach at distinct points throughout the day to help them internalize the commentary and cement skills.
The theme of the first day is, "Riding with Purpose" and riders will learn techniques specific to reading the road, interpreting landscape and traffic cues and developing distinct strategies. At select times throughout the day, the crew will stop and use the roadside as an impromptu classroom for "chalk talks" where instructors and participants will diagram and discuss various techniques. The Stayin' Safe Road Side Handbook will also be used for discussion and for note taking.
Day two builds on the lessons of day one and can be summarized as, "Riding with Precision and Smoothness." Advanced braking technique, body positioning, smooth shifting, slow-speed maneuvering and advanced cornering techniques are among the day's lessons and guided practice. Often, a "study hall" gives riders a chance to ride a section of road on their own to interpret the road and apply techniques on their own.
As the event winds down, riders will demonstrate their knowledge of Stayin' Safe techniques by participating in an on-road final exam. It's a fun way to wrap up a valuable and enjoyable experience.
Those registered for this event will receive full logistic details plus an electronic edition of the Stayin' Safe Rider Handbook that introduces the core program content.[/vc_column_text][/vc_tta_section][vc_tta_section title="RIDER REQUIREMENTS" tab_id="1471376078010-52f56296-246d"][vc_column_text]Riders should have the following experience to participate in this event.
We feel that riders of all skill and experience levels will come away with something valuable from the training. In fact, most of our participants are experienced riders looking to continually improve their riding skills, riding enjoyment and margin of safety.
We generally recommend that participants have at least 5000 miles of recent on-road experience (minimum requirement is 2500 miles and one full season of on-road experience) prior to enrolling in a mountain-based training tour. It is also helpful if riders have at least some prior experience riding on mountain roads, especially those riding large touring or cruiser bikes, although it is not a requirement.
[/vc_column_text][/vc_tta_section][vc_tta_section title="YOUR INSTRUCTOR" tab_id="1471376299820-171c05c6-1111″][vc_single_image image="196″ img_size="medium" add_caption="yes"][vc_column_text]Your lead instructor for this event will be Eric Trow
Eric is the principal/chief instructor for Stayin' Safe. He has been a continually active motorcyclist since the age of eight years old. Through the years, Eric continued to concentrate on developing his riding skills, not initially to become a safer rider, but to become a better rider. He began studying riding techniques and participating in rider education courses and was soon recruited into the Motorcycle Safety Foundation program.
After several years as an MSF RiderCoach, Eric began working with Stayin' Safe founder Larry Grodsky and became certified in the on-street rider training program. Trow is a highly trained and accomplished motorcyclist who regularly participates in a variety of advanced riding programs. One of his proudest achievements was certification in Basic Motor Officer Training where he earned a perfect score. Trow is the safety editor for Rider magazine and pens the popular monthly Riding Well column and Stayin' Safe rider tips segment. He is also a popular featured speaker at motorcycle events around the country including speaking to hundreds of enthusiasts at AIMExpo, Americade, AMA Vintage Motorcycle Days and others.
Trow was named the AMA Outstanding Road Rider Award recipient in 2013 for his contributions to rider safety and the motorcycling community.
Depending upon the number of tour participants, Eric may be joined by another Stayin' Safe instructor. To learn more about the Stayin' Safe team, visit the Our Coaches page.[/vc_column_text][/vc_tta_section][/vc_tta_tabs][/vc_column][/vc_row]